Caroline's passion for motorsport was undoubtedly sparked by her dad, who raced motorbikes back in the 1940s. Growing up, she helped him pull apart and put together again all sorts of engines, from that of the family ski boat to Caroline's first car – a Holden Torana 1200. "And then of course, there was the family ritual of watching the 'Bathurst 500' as it was called back in the '60s", says Caroline. "The TV went on as soon as the broadcast started and the whole family sat in front of it all day!" So when it came to starting her career, it was a fair bet she'd follow her passion. Caroline has spent almost her whole working life in the automotive industry. Her first job ever was as a secretary at Wynn's Australia – still a leading manufacturer of automotive products.
She achieved her financial services qualifications and progressed at Wynn's from secretary to accountant. All of which eventually led to a job at ZF Group, which she has now held for 16 years. ZF is a German company that manufactures parts for cars and commercial vehicles, along with specialist plant equipment. It's also involved in the rail, marine, defence and aviation industries. Whites Diesels has been supplying high quality ZF products to its customers for many years – everything from shock absorbers to steering and transmission systems for their fleets of buses and trucks. Caroline is now the Financial Accounting Manager at ZF and has worked with Whites since her days in the After Market Trading and Sales & Service departments (since combined). But when she leaves work at the end of a busy week, Caroline follows her passion into the weekend. "I'd always loved watching car races, but my first experience of rallying was in 1978 when my sister took me to Canberra to see the Castrol International Rally. That experience, standing in a dark forest, seeing the lights of a rally car winding through the trees and gradually getting closer… and then hearing the scream of a BDA Escort as it flew past before disappearing into the night… I was hooked for life!"
Caroline became a Lap Scorer for circuit events held at Amaroo Park Raceway, leading to a position with the Australian Racing Drivers Club working at the 1978 and '79 Bathurst 1000. Of course, there's only one place to go from being trackside and that was into the cars… and so from watching famous drivers like Australian greats Colin Bond and Ross Dunkerton and the flying Finn Ari Vatanen, she joined the North Shore Sporting Car Club – one of the most active rallying clubs in NSW – and got behind the wheel. That proved to be a fateful move. At the end of 1979 she met a fellow rally tragic named John… she started navigating for him in rallies and less than two years later they were married. "Our wedding cars were three Datsun 1600 Rally Cars", says Caroline… "… and part of our Honeymoon was spent surveying the forest roads of Batemans Bay for the upcoming State Championship. I've been in cars with him for a long time now and he's still driving me round the bend," she says with a laugh.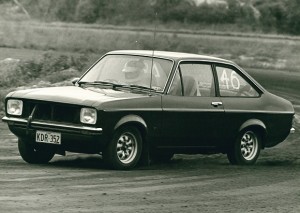 By 1980 she was driving her own machine – first a Ford Escort road car and later a yellow Datsun 1600 rally car, which her dad had helped she and John prepare for racing. She continued navigating for John in State Championship and Clubman rallies, while the roles were reversed when Caroline drove in Group 7 events. She considers her best result a 2nd placing as Group B Driver in the 1985 Group 7 Championship. "There's just something special about rally driving", says Caroline. "There's no one else around to endanger you, so it's probably safer than driving on Sydney roads. And as you're competing against the clock, it really comes down to driver skill."
Both Caroline and John became involved organising events and in the 1990s, Caroline was made a Life Member of the North Shore Sporting Car Club in recognition of her contribution to the club. She and John had four children, two of whom share their parents' interest in cars and racing. But while John still hits the trail on weekends, Caroline is a bit more cautious these days. In her words: "While our children were growing up I didn't have as much time to spend on Motorsport… but now I'm getting involved again and this year I was appointed a member of the CAMS NSW Rally Panel, which oversees all CAMS rallies and rally sprints in the state. I may take more of a back seat rather than driving these days, but my passion's never waned. Motorsport has given me so many years of enjoyment and friendships that will last a lifetime.   
"So come October, I'll be cheering the boys round Mount Panorama as loudly as ever." That's the passion we're talking about!
Other stories about the passion of people
doing what drives us for 25 Years
Whites Diesels Anniversary Booklet
He fell in love with a tractor at 8 years of age
"I like to go fast… in anything!"
"I'm with a company that allows me to follow my passions."
"I have two hobbies in retirement… my cattle farm and collecting old trucks. I only have 12 at the moment!"
"It's true… I bought my beloved 1975 Mazda 808 Coupe when it had only ever been driven by a little old lady, to and from Church!"
"I like my buses, but my pet project right now is a 1926 Chevy."
"From the time my dad restored a 1927 Chevy in the late '60s, I was hooked!"
I bought my first motor scooter while I was still at High School in Germany
Green mindset… green thumb… loves his trucks and buses!