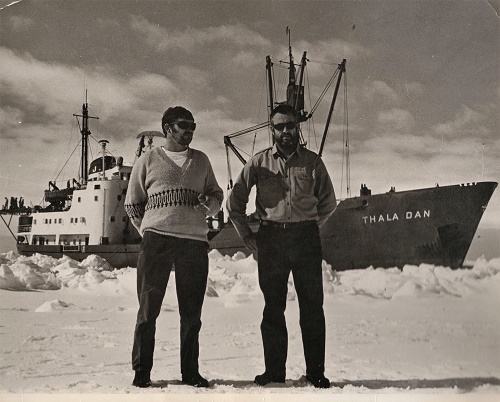 "The smell of the exhaust on a country road from that Fordson Major with its P6 Perkins Diesel must have got into my system."
That's how Doug Peterkin describes the start of his lifelong love affair with old vehicles… he was 8 years old and walking to school in country Victoria, just outside of Ballarat, when he fell in love with that old English-made tractor. "The smell of the exhaust… the sound it made… it just got to me", says Doug. From that time on, he collected model vehicles, read automotive magazines and only ever wanted to become a mechanic. When he first left school he couldn't immediately take the course he required to become a diesel mechanic, so he served a five-year apprenticeship with the railways. That smoothed his acceptance at Gordon Institute in Geelong where he was able to study the course he craved.
Doug achieved his childhood goal and graduated as a qualified Diesel Mechanic. His first job was with what was then called the Country Roads Board – the government authority responsible for the construction and maintenance of all main roads in the State of Victoria, between 1913 and 1983 (now 'VicRoads'). He then applied for a job closer to home in Ballarat with the local paper mill as the Foreman in charge of all machinery. After getting married and having two children, he finally got the opportunity to take a job in the role he'd always sought… only one slight problem – it was in Antarctica! It was only a 12-month contract Australian Antarctic Division, but women weren't welcomed at that time, so he set off solo and remembers arriving at Casey Base Antarctica in the southernmost continent, not wanting to leave the ship and thinking, "What have I done?!!"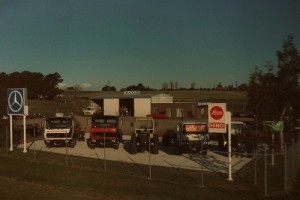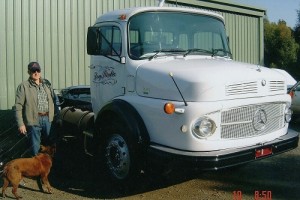 It was 1971, Doug was 32 years old and he'd moved from chilly Ballarat to the freezing south where one day he can remembers the temperature hitting minus 42 deg. C.! But he was officially a Diesel Mechanic at last. Of course, doing his job on a daily basis wasn't that easy. As Doug explains it: "You'd put down a spanner and a second later it had disappeared! I was looking for a thief, when I realised that, because I'd been holding the spanner, it was warm and when I put it down, it just melted through the snow. "You could hold a flexible hose in your hands and it would stiffen to the point it stretched straight out in front of you. I was told when I first got there that if I had to pee, walk backwards as I was doing so, then crack off the frozen stream with a stick! (That wasn't actually true by the way.)" 
That was a tough 12 months for Doug and his family, but they made it through and when Doug returned home, he decided he wouldn't go chasing jobs any more, but instead start his own business… so Doug Peterkin Diesels was established in Warrenheip, just outside of Ballarat, exclusively selling and servicing Mercedes-Benz commercial vehicles. "We started in early 1973 and were named Mercedes-Benz 'Dealer of the Year' in '81. We started working with Whites Diesels almost from the day Darryl started the business in '91. I had a great relationship with 'Ron' who worked for Whites out of Melbourne… (you know, I never used or knew his surname?). He had such an excellent knowledge of parts, understanding exactly what we could substitute for what for the best result. "I met Darryl about 15 years ago too and we got along really well. Any little snags I ever came across with Whites were soon smoothed over and we've had a long and mutually beneficial relationship over many decades."
 Running his own business, Doug's passion for old vehicles evolved from that first tractor that inspired him so, to the Mercedes 1418 model – a 210 horsepower single-drive prime mover. It was the vehicle that put Mercedes-Benz on the commercial map. It simply out-lasted and out-performed all its competitors. As happened with that old Fordson tractor, Doug fell in love with the 1418 and when they stopped being made, were succeeded by the V-Series and so many were going to the scrapheap, Doug just had to have one. He found a truck that had been "battered to death, carting sheep and God knows what else"… it had over a million kilometres on the clock! He bought it, restored it and still owns it today!
He loves almost all the Mercedes-Benz trucks… "The 22-28 models in the V series were bullet-proof. Farmers and others just couldn't wreck them. I sold and serviced them for years. Then the SK Series came along and they were good too. Of course, they're all gone now and the Actros have taken their place. Good trucks still, but a little too complicated for 'the average Joe'… too many electrics. You can't really service them yourself… you have to take them back to the workshop for even minor fixes."
Doug Peterkin is now 74 and 'semi-retired'. He still restores and sells old vehicles, but mainly for the fun of it. Doug typifies the automotive passion that drives us here at Whites Diesels and is shared by so many of our suppliers and customers. Keep on truckin' Doug!
Other stories about the passion of people
doing what drives us for 25 Years
Whites Diesels Anniversary Booklet
"I like to go fast… in anything!"
"I'm with a company that allows me to follow my passions."
"I have two hobbies in retirement… my cattle farm and collecting old trucks. I only have 12 at the moment!"
"It's true… I bought my beloved 1975 Mazda 808 Coupe when it had only ever been driven by a little old lady, to and from Church!"
"I like my buses, but my pet project right now is a 1926 Chevy."
"From the time my dad restored a 1927 Chevy in the late '60s, I was hooked!"
"There's just something special about rally driving"
I bought my first motor scooter while I was still at High School in Germany
Green mindset… green thumb… loves his trucks and buses!