Darryl's always loved pulling apart old vehicles and recovering parts he can use again. He's been doing that "forever". "I've been a collector since I was a kid… and one of the things I most liked collecting was secondhand parts… particularly from motorcycles." 
And nothing much seems to have changed. Darryl still loves to tear apart old trucks and motorcycles and discover gold. "In fact, what was once a hobby, became more serious and then got out of control!" says Darryl. "Apart from my 'real job', I now own and operate The Indian Motorcycle Museum of Australia. I just love those bikes." 
Darryl first became interested in Indians over 25 years ago… and not just the motorcycles themselves, but all the great memorabilia that surrounds them. The first Indian he owned was a 1922 Powerplus but two years later it made way for a 1944 Chief, a motorcycle Darryl still owns and rides today.
"There's just something about these motorcycles", says Darryl. "They just take your eye. I have two of them on display at the Bracken Ridge Tavern (20 minutes north of Brisbane) and people just stare at them for ages. They've been used by police forces, the fire brigade… even the US Army in WWII. Such a history!"
Quite a history indeed… originally manufactured in 1901, the Indian factory team took the first three places in the 1911 Isle of Man Tourist Trophy and during that decade, Indian became the largest manufacturer of motorcycles in the world.
The range of collectors' items Darryl's gathered in his museum in the north Brisbane suburb of Geebung is nothing short of amazing. There are motorcycles from the early 1900's including an Indian 8-Valve Racer from 1914… there are post-war models from board racers and hill climb bikes to a rare USA Fire Department sidecar – fascinating bikes that helped shape everyday life for generations and have left their indelible mark in history.
And then there's the associated memorabilia – from leather jackets to medals worn like war tributes to belt buckles and period Indian pocket watches. There's a 1916 program of the '14th Annual Meet' of the Federation of American Motorcyclists. Period advertisements and posters from famous race meetings adorn the walls. And of course, there's the famous Indian logo on signs of all description.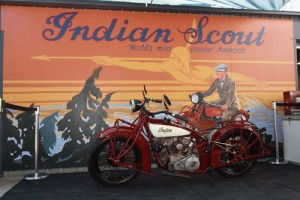 There's even an Indian-branded pigskin football from a gridiron game of decades past and an Indian Fire Patrol helmet. And of course there are parts… thousands of them!
Darryl's passion has taken him all over the world and helped him forge lifelong friendships… he's that kind of character. The museum's Facebook page has more than 17,000 'Likes' and in his own words: "We've been privileged to host a number international Indian Motorcycle enthusiasts from the USA, New Zealand, Italy, Sweden and the UK to name just a few points of origin." 
It's this passion that led Darryl to his chosen career and has guided him throughout. He founded the business that would become Whites Diesels 25 years ago in 1991. In a move that would define the company's entire future, he flew to Germany and sourced all his own parts suppliers.
Darryl was originally the CEO, but as recently as July 2015, he stood down from this position to "do what I do best" … so he's now in charge of Whites' Secondhand Division. He still loves dismantling vehicles and recovering and selling parts. He's still that kid who loves collecting.
Other stories about the passion of people
doing what drives us for 25 Years
Whites Diesels Anniversary Booklet
He fell in love with a tractor at 8 years of age
"I like to go fast… in anything!"
"I'm with a company that allows me to follow my passions."
"I have two hobbies in retirement… my cattle farm and collecting old trucks. I only have 12 at the moment!"
"It's true… I bought my beloved 1975 Mazda 808 Coupe when it had only ever been driven by a little old lady, to and from Church!"
"I like my buses, but my pet project right now is a 1926 Chevy."
"From the time my dad restored a 1927 Chevy in the late '60s, I was hooked!"
There's just something special about rally driving
I bought my first motor scooter while I was still at High School in Germany