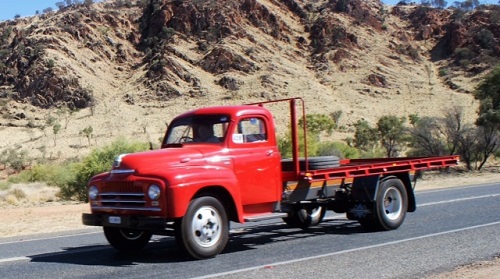 As with Caroline Sparkes' story, the seed for Garry's motor vehicle passion was sewn by his father. Way back in 1967 when The Beatles were telling us 'All You Need Is Love', Garry's dad was pouring his heart into the restoration of a 1927 Chevy (with help from his very young son). It was his pride and joy. The family was living on a farm in the country at the time, but even after moving to the city, his dad soon bought another old car to restore… then another… and another!
Garry loved the whole process and at just 16 years of age, he bought and restored his own first car – an old Morris Major. That car had an interesting, if very brief, re-birth. On completion of the restoration, Garry (not yet old enough to have a license) sold it to a girl at his school, desperate for her first car. Having finally got his 'P Plates', he bought the car back from his friend… but it lasted just three days. Garry turned the wrong way up a one-way street, swerved to avoid an oncoming car and ended up wrapped around a telegraph pole. No-one was injured, but the car was a write-off.
It was a while before Garry ventured back into restoring old cars but his passion remained undimmed. His career was always going to involve motor vehicles and it led him to Whites Diesels in 1998. He served in Sales until just last year before moving into Purchasing & Procurement (with product development on the horizon). But back to that first love… In 1989, after returning from a wonderfully restorative holiday in Europe, he bought an old Ford Ute, which this time lasted him 27 years! (He only sold it about three years ago.) Like his dad before him, he couldn't be without a project and given he had a mate around the corner who owned a trucking company, Garry went right out and bought an old truck – a 1952 International L160. He talked two more mates into restoring their own trucks and before you knew it, the four of them were heading out together on 'Truck Runs' (think rallies for single 'truck tragics'. Not surprisingly, this was before Garry was married.)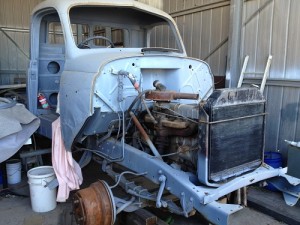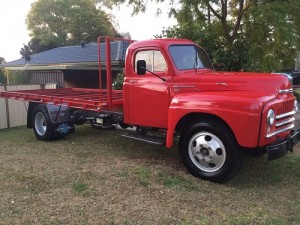 A 'truck run' consists of travelling in convoy to venues all over the state – from Bathust to Bargo and Penrith to Gundagai – and then attending events like 'The Dubbo Vintage Truck, Tractor & Quilt Show'. For two or three days, they'd take their time soaking up the sights (often historic vehicles) and surviving on a diet of bacon, eggs and beer… and then drive home again. "It's about the adventure", says Garry. The frequency of these trips naturally decreased after Garry married his beautiful wife Sumalinee in 2012, but the boys are still allowed to get together and plan trips away. Last year three of them made it all the way to The Alice! As Garry tells it: "One bloke didn't make it, as he didn't finish restoring his truck in time… in fact, it's still not finished! But I drove an old beauty that was literally in pieces when I bought it from Ed Lewis at Lewis Marina in Tarren Point. All the parts were there and in pretty good nick – the chassis, the cab… I just had to put them all together, buy a new bumper bar, a few door handles and the hood ornament. So this year we're off to Dubbo for some more fun."
And when not restoring old trucks or looking after purchasing and procurement for Whites, how does Garry spend his spare time? "Well, my wife's from the north-east of Thailand, towards the border with Laos, so we make regular trips back there to see her family. It's a beautiful place… just too hot! Right now we're building a house in Thailand for Sumalinee's mum, so we'll have a bigger place to stay when we visit."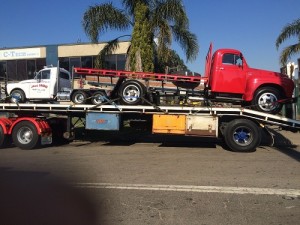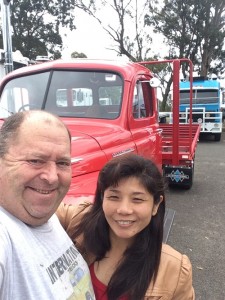 Will he keep restoring old trucks? "Absolutely! They're very sentimental things you know… although it can be an expensive hobby. One of my mates has spent the best part of $100k on his latest project. The cab alone cost him $24k… the interior another $7k… the further he went, the more rust he found and the more he had to spend. But it's now a beautiful truck." It'd want to be Garry! If you want to deal with passionate people in the automotive industry, you'll certainly find them at Whites!
Other stories about the passion of people
doing what drives us for 25 Years
Whites Diesels Anniversary Booklet
He fell in love with a tractor at 8 years of age
"I like to go fast… in anything!"
"I'm with a company that allows me to follow my passions."
"I have two hobbies in retirement… my cattle farm and collecting old trucks. I only have 12 at the moment!"
"It's true… I bought my beloved 1975 Mazda 808 Coupe when it had only ever been driven by a little old lady, to and from Church!"
"I like my buses, but my pet project right now is a 1926 Chevy."
There's just something special about rally driving
I bought my first motor scooter while I was still at High School in Germany