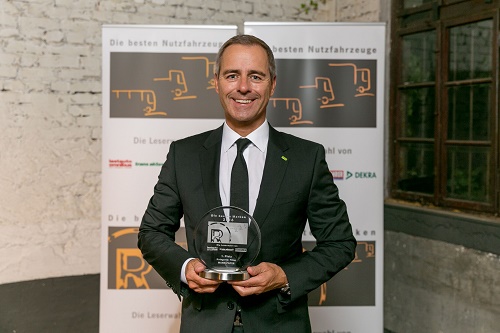 Friday June 24, 2016 – We congratulate MANN-FILTER with "Best Brand 2016" award. More than 10,000 readers of the German trade magazines "trans aktuell", "lastauto omnibus" and "FERNFAHRER" have voted: MANN-FILTER is the "Best Brand 2016" in the Filter category – for the fifth year in succession.
From transmissions and tires, brakes to refrigeration units and not forgetting the filters: in over 20 categories, almost 10,000 readers gave their opinion on the brands whose products impress them most. The results provide a clear insight into product policies and brand positioning in the industry. The overwhelming majority of respondents once again opted for MANN-FILTER in the "Filter" category. With this result, the quality brand was able to repeat its success of the last four years and extend its lead over the second-placed brand significantly. The vote for the "Best Brand" and for the "Best Commercial Vehicle" is organized by ETM-Verlag Stuttgart, a specialist publisher which issues all three magazines.
OEM quality in the independent aftermarket
The prize was officially awarded on the evening of June 23, 2016 in Stuttgart, Germany. It was accepted by Jörg Engels, who as Director Brand Management in the automotive aftermarket is responsible for the MANN-FILTER brand. Engels was delighted with the award: "We are proud that the readers of three such important trade magazines for the transport industry have given a clear vote of confidence in MANN-FILTER as the No. 1 filter brand in the commercial vehicle segment. It further motivates us to continue impressing our customers with uncompromising OEM quality, market coverage of more than 90 percent in the European commercial vehicle market and a high-performance service offering." Whites Diesels Australia supplies the OEM quality MANN-FILTER products to their customers for many years.
Try the MANN-FILTER experience and receive a Hella Led Light
MANN-FILTER present at Whites Diesels stand 7 – BusVic