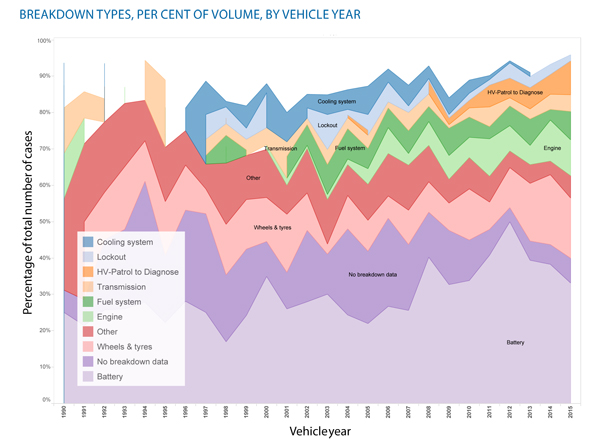 Wednesday April 20, 2016 – Where and why do breakdowns occur, and what can we do to prevent them? By analysing real world data, roadside assistance specialist NRMA Business Motoring and Prime Mover uncovered the truth about unwanted downtime and answered the industry's most pressing questions – why and where do heavy vehicles break down? What is the most common issue, and who do I call on in the worst-case scenario?
The answers are given in a national research project what could be the largest pool of data on the reliability of Australia's heavy vehicle fleet seen to date – with more than one surprising result.
"We all know about the importance of preventative maintenance and detailed service processes, but quantifying the risk behind it suddenly made the issue a lot more tangible – not just for our own clientele, but everyone operating a truck." says Matthew Beattie, Head of NRMA Business Motoring. NRMA Business Motoring is currently looking after businesses with more than 6,000 trucks and heavy vehicles Australia-wide.
Breakdown coverage is extremely topical for transport businesses in Australia. Breakdown can cause a big impact for a professional fleet, with a lot of workshop managers indicating NRMA encouraged them to review their current maintenance regimes based on the data provided by NRMA.
Breakdown top 10
Battery and tyre/ wheel-related issues still lead the organisation's breakdown top 10. Electrical issues is listed to eighth on the national listing, with problems related to the cooling system plunging from sixth place to ninth. Engine problems are much more common nationally, soaring from rank eight to four, with transmission issues also up a spot on the national scoreboard.
The report shows changing importance of technical issues according to vehicle age. It can confirm that battery-related call-outs are most common for vehicles built between 2011 and 2013, with older-generation commercial vehicles much less likely to strand due a flat battery. Engine problems seem to accumulate around the 2014 generation, but are notably absent from call-out protocols concerning vehicles built between 1991 and 2000 – either because of statistical inaccuracy or because they are, indeed, in a flawless mechanical condition.
Meanwhile, issues with the cooling system, are almost non-existent for vehicles built in 2013 and beyond. Instead, they seem to plague the 2000-2002 cohort in particular, with a second spike in 2005. Wheel and tyre issues are least likely for vehicles made in 2003, but more frequent for those that are only one or two years old.
Read more in the online Prime Mover article
Source: NRMA / Prime Mover