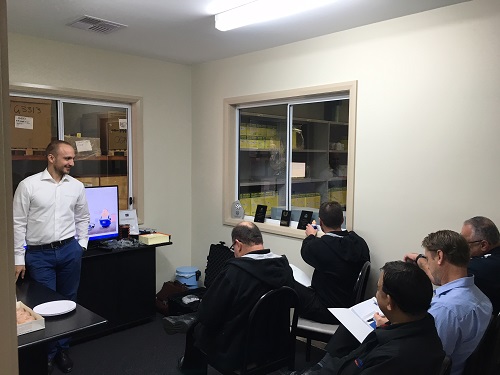 Monday August 8, 2016 – Last week 3 of our 7 branches in Brisbane, Sydney and Melbourne have had an interesting DT Spare Parts Training by Eike Torsten Merz, General Manager and Ole Niklas Steffen, Supply Chain Manager from Diesel Technic Asia Pacific Pte. Ltd. in Singapore.
Partner Academy
As part of the so-called 'Partner Academy', the in-house training institution of Diesel Technic for distribution partners, different trainings were held. One main topic was the product information training. The trainers supplied the team with tips and tricks how to easy recognise guaranteed product quality ('Genuine Quality') offered by the brand DT Spare Parts. They described typical quality characteristics of the brand products by the examples of air hoses, air bellows, air filters, oil pressure sensors and ABS seals and compared them to competing products.
Testing
Products of the brand DT Spare Parts are developed, approved and finally checked at the Diesel Technic headquarters in Germany by its own engineering department and quality assurance. Mr. Merz and Mr. Steffen explained how qualified technicians and engineers provide the basis for an aftermarket premium quality that is ensured by the help of own test benches and external testing organizations.
Beside this, the training team presented the already known Partner Portal, the procurement and information platform of Diesel Technic for distribution partners.