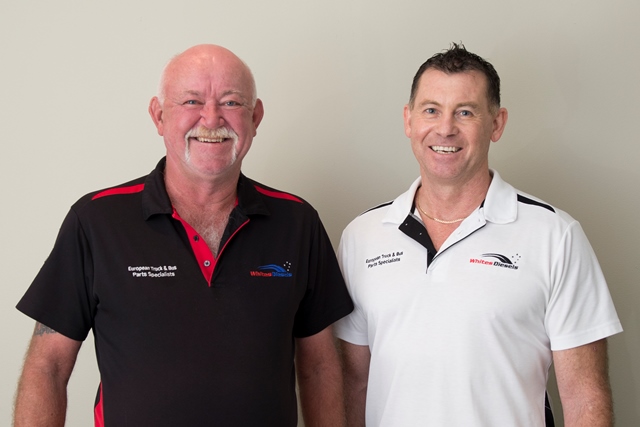 Darryl White and Rodney Hemaridis, founders of Whites Diesels Australia
The year 2016 marks the 25th anniversary of Whites Diesels, one of Australia's leading suppliers of bus and truck parts.
Founded in 1991, by Darryl White, the company started out as a small Queensland parts supplier, with a single workshop in Sandgate. It's now a nationwide operation with seven distribution points around the country. In the industry, Whites is renowned as the Mercedes Benz specialist; they supply parts for all Benz city and coach bus models, and they're one of the largest stockist of engine and body parts for Mercedes Benz trucks. They also hold an extensive range for Volvo, Scania, MAN and other popular bus and truck models.
But it wasn't an easy road going from a one-man show to one of the nation's biggest. Indeed, it's something of a rags-to-riches story. "I had $10,000 and couldn't even afford statements," says Darryl. "I had to put white stickers on borrowed ones. And then my local suppliers pulled the rug out from under me. No more wholesale prices, which meant no more margin. So I got on a plane, went to a trade-fair in Germany and sourced all my own parts suppliers."
By taking the initiative, Darryl established Whites Diesels as a completely independent supplier, and was able to offer better prices and service than ever before. Soon the Queensland business began to prosper, and in 1998, Darryl saw an opportunity to expand into NSW. He partnered with a long-term customer, Rodney Hemaridis, and founded Whites Diesels NSW.
Not surprisingly, the startup phase of the NSW business proved equally as challenging as the Queensland operation. "The first month, I worked out of my car and we earned $400," says Rodney. "But the next month, we leased a shed. The month after that, we hired another salesman. Each month things got better."
Today, 25 years on, both Darryl and Rodney are still actively involved in day-to-day operations. Not at the executive level, though. They're board members, but they've gladly stepped back from their executive roles. Darryl's back running the second-hand products and Rodney's once again supporting the sales and product teams.
"If there's one thing we've learned in 25 years of business," says Darryl, "it's that you have to know your strengths and weaknesses, and focus on doing things well, not doing them your way. We're both back doing what we love and what we're best at, and Whites Diesels is better for it."
Photo by: Homepix Photography