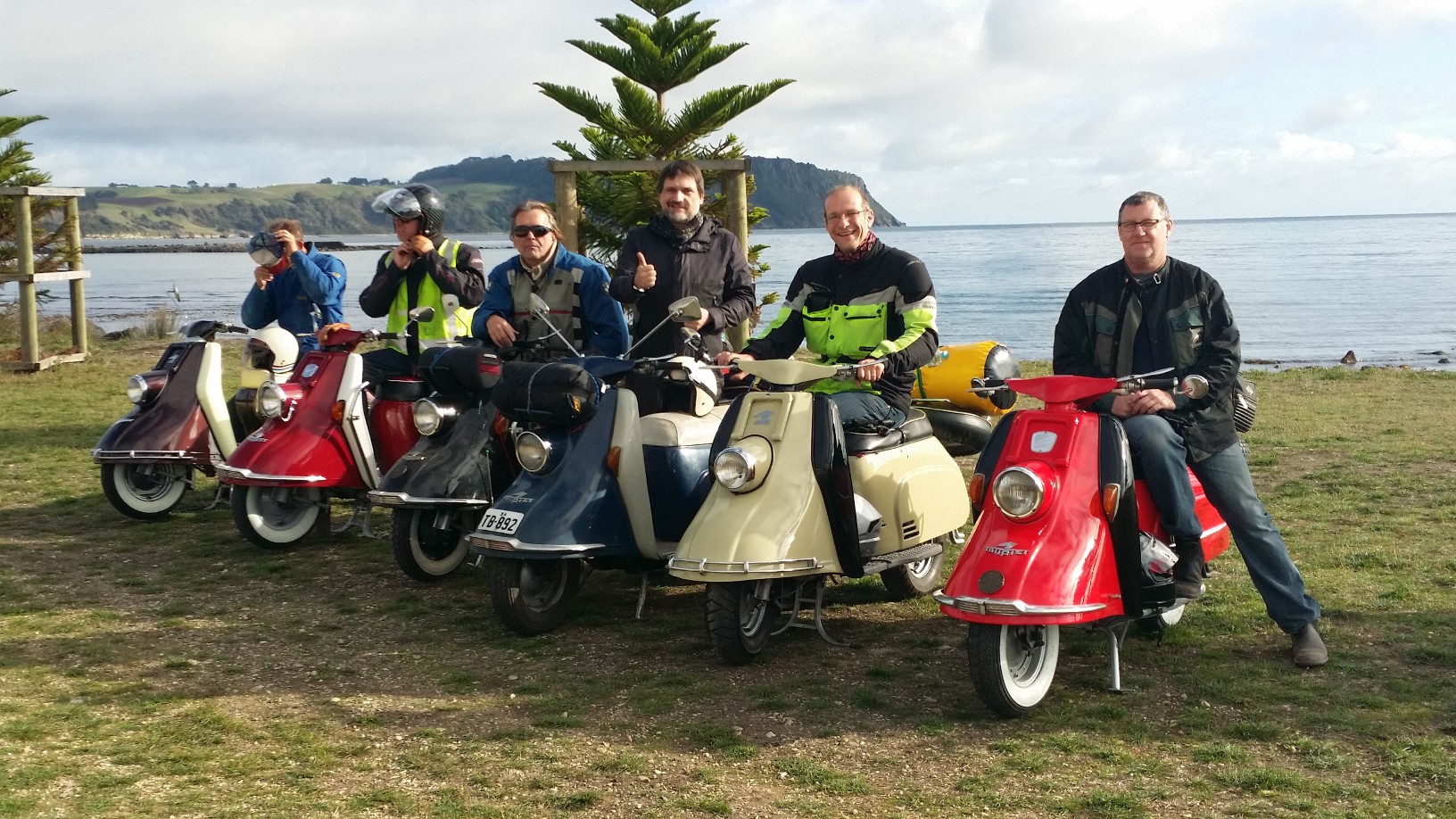 We take pleasure in introducing you to Stefan Kisser, Product Manager SOE Hella Australia. As a teenager, Stefan loved cars…  but with very little disposable income, the first vehicle he was ever able to own was a Vespa motor scooter. "I bought my first motor scooter while I was still at High School in Germany."
That purchase back in Germany sparked a lifelong passion. He graduated from that first Vespa to larger motor bikes and finally to a car in the mid-1990s. At that time, Stefan thought he'd left two wheel vehicles behind him for good… until he came to Australia. Stefan is a mechanical engineer by trade and has always worked in the automotive industry. He started as an apprentice, processing plastic and rubber molds in a German tyre manufacturing company. He was there for 17 years. But in 2010 he decided to come to Australia… and he's never left.
He considers himself lucky to have landed a job with Hella Australia, a company born in Germany in 1899. (What were the chances… a German national finding a job in a German company, in Melbourne Australia?!!) Hella is most famous for manufacturing car headlights. However they've now evolved into a global organisation manufacturing all types of vehicle lighting as well as high performance electronics and more… and they also distribute parts for many renowned Original Equipment manufacturers. Stefan quickly worked his way up to the position of Product Manager for one of those O.E. products – Mann Filters. They're made by an outfit called… (wait for it)… Mann + Hummell… yep – another company founded in Germany. In this position, Stefan was in charge of product management for key accounts… like Whites Diesels, with whom he formed a sound and friendly relationship that he still maintains even though his role at Hella has now changed somewhat.
But back to his passion for vintage scooters… soon after arriving in Australia, Stefan happened to come across an online ad. Someone was selling a Vespa Super 150 from 1968. Stefan thought about it for all of a minute before deciding to check it out. It was in good condition and as soon as he heard that typical two stroke engine sound, he fell in love with scooters all over again.
He bought that machine and within no time was enrolled as a member of the Vespa Club of Melbourne – a group of like-minded fans who meet regularly and organise rides and other events. He's now risen to the role of official Club Scrutineer, reviewing bikes and their documentation for registration with VicRoads as Historical or Modified classic motor cycles. And he now owns two Vespas himself – one the requisite vintage of more than 25 years old and so eligible for the Club Permit Scheme allowing him up to 90 days of riding per year – and the other a more recent White Vespa 200cc model with full registration for daily driving.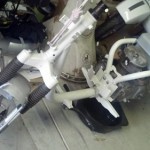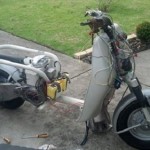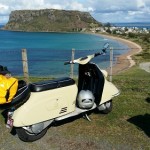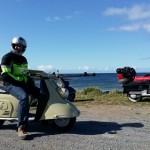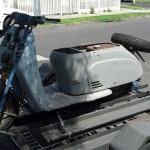 For good measure, two years ago he also bought what he tacitly calls "my German project" – a machine that had been used as a 'Donor' to help restore other scooters and therefore didn't have the original handlebar of the Heinkel Tourist 103 A0. The chrome handlebar and the original speedo and clock from that model are very hard to find these days. Both had been replaced on Stefan's purchase with components of the 'later' 1957 A1 model.
In April this year, less than a month after finishing the restoration, Stefan took his Heinkel on a Tasmanian scooter trip with the Vintage European Scooter Club of Melbourne. As he tells the story: "I had only done about 200km on the Heinkel when I headed to Port Melbourne to get on board the ferry to Tasmania together with 11 other riders from Melbourne and Adelaide.
 "We drove for over 740km in sunshine, rain and fog. At one stage I took a wrong turn and lost the group. I was on my own for kilometers, the 60 year old headlights on my Heinkel giving me a maximum of 20 metres visibility through the mist. Luckily my scooter made the whole trip without any issues other than those I could fix with a cable tie. (I wasn't confident enough at the beginning to have predicted that!) Most of the other scooters made it without major issues as well, but unfortunately two ended up on the back of a tow truck for the last 50km due to breakdowns that couldn't be fixed roadside. A brilliant trip on these vintage machines that I'll never forget."
So, was our scooter-loving mechanical engineer ever a 'Mod'?
"No… even though that famous fad was revived in both England and Germany decades after the original Mods made Italian scooters notorious, I tend to wear Gortex, not parkers, when I ride. I probably listen to the wrong music too and I don't have 250 mirrors festooned all over my Vespas", he says with a smile. "But do I share their passion for vintage scooters? Absolutely!"
Other stories about the passion of people
doing what drives us for 25 Years
Whites Diesels Anniversary Booklet
He fell in love with a tractor at 8 years of age
"I like to go fast… in anything!"
"I'm with a company that allows me to follow my passions."
"I have two hobbies in retirement… my cattle farm and collecting old trucks. I only have 12 at the moment!"
"It's true… I bought my beloved 1975 Mazda 808 Coupe when it had only ever been driven by a little old lady, to and from Church!"
"I like my buses, but my pet project right now is a 1926 Chevy."
"From the time my dad restored a 1927 Chevy in the late '60s, I was hooked!"
There's just something special about rally driving
Green mindset… green thumb… loves his trucks and buses!